Description
Jigsaw and/or Magnetic Guestbook Puzzles
One or more images, various styles.
For Wedding receptions, birthday parties, special occasions.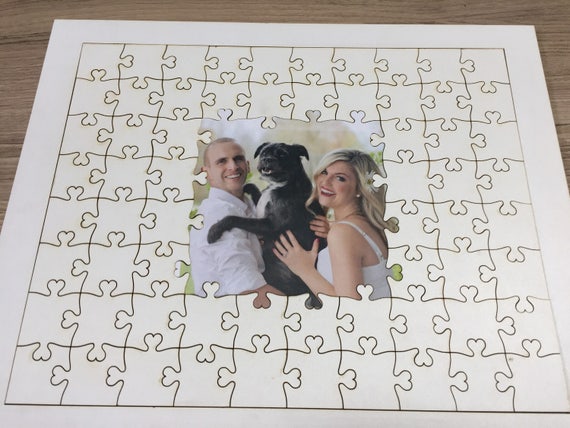 Guests write a message on their piece of the puzzle, either on front if blank, or back if photo on front.
*NOTE* to order please visit www.pzzl.me to view the PDF with order codes.
Unless picked up locally, select the code for shipping to your destination.
Please email image(s) and text by return email.
Both styles of puzzles are created from your hi-res image such as an engagement photo.
Puzzle pieces and boards are laser-cut from 1/8-inch thick pressed wood hardboard and sealed for durability.
Pieces can be ~ 1.5 or 2 inches.
Ideally, 1 x 1.5 inches should be the smallest size.
I can make puzzles almost any size from 8×10 and up.
If guests will write on top of your photo, we use your lightened version to enhance guest messages.
You may vary the number of pieces to suit the number of guests you expect will sign the individual puzzle pieces – this affects the piece size and cost of laser-cutting.
Base the puzzle requirements on the number of guests and piece size, then work out the size of the puzzle(s) you need. Pieces will be square or slightly rectangular. If you order two or more puzzles, it is best to use different images.
For magnetic puzzles, the pieces and board use flexible magnetic substrates. The base board is coated white and etched with your choice of wording and font. The board will be larger than the actual puzzle. There will be holes on top for hanging on a wall – the top is based on your image orientation (horizontal or vertical).
Guests can write on the puzzle pieces using coloured gel pens, pencils or sharpie markers. You cannot use ballpoint pens or water-based markers. Permanent gel pens or markers are best as they dry instantly and you can buy 12 or 24 at Costco or Staples. Have at least a dozen colours available for your guests' imagination and creativity.
To get guests to complete your guest book puzzle, you can either leave puzzle pieces at guest tables or leave a box of pieces next to the puzzle area. I provide a complimentary "call-to-action" stand to remind guests to contribute their puzzle piece.
Guests will be engaged trying to find the location of their piece in the puzzle, using a guide image placed next to your puzzle. It will be a memorable form of entertainment, especially with larger puzzles.
To accommodate many guests, you have the option of ordering multiple puzzles.
Prices range by type of puzzle $30-$300. Click for specifications.
For ordering, please visit my Etsy site.